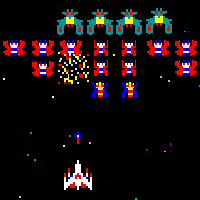 Galaga
By: Robotube Games. Category: Shooting: Space. Played 2 times today, 13,903 times all-time.
Galaga: Galaga is an epic clone of the arcade shoot-em-up game of the same name Rated 4 out of 5 with 29 ratings
Instructions: Galaga (or Galaxian, or Galagon 2004 as it's actually called here) plays much like an enhanced version of Space Invaders. Use your arrow keys to move your ship and shoot the aliens. Press Spacebar to fire.
How to bookmark this game: Press Ctrl-D. Or try Command-D on Mac