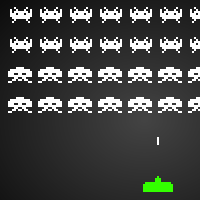 Space Invaders
By: Paul Neave. Category: Shooting: Space. Played 43 times today, 543,329 times all-time.
Space Invaders: Shoot all the aliens! Rated 5 out of 5 with 36050 ratings
Instructions: Kill the aliens. Use the left and right arrow keys to move and spacebar to shoot. Avoid enemy fire or hide behind the blockers. Aliens start to move much faster near the end!
How to bookmark this game: Press Ctrl-D. Or try Command-D on Mac