Bricks of Egypt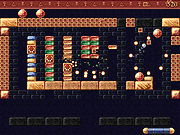 DESCRIPTION:
Bricks of Egypt takes you on a fantastic journey through an undiscovered egyptian world of traps, lasers, fire-balls, gems and hieroglyphs. Classic brick breaking action for all ages, with a state-of-the-art game control unlike older games in this genre. Bricks of Egypt is also spiced up with a rich set of bonuses and special effects. Features 3 difficulty settings, strong theme with atmospheric music, superb bat and ball mathematics, and a rich set of bricks, bonuses and special effects!

Category: Arkanoid games
Author: Arcade Lab
Filesize: 1,536k
Download time: 56k: 4 minutes, Cable/DSL: Less than 1 minute
Get Bricks of Egypt now:

Free trial!

Only $19.95!
If you like this game, you may also like other games in the Arkanoid category!