3D Live Pool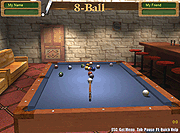 DESCRIPTION:

This game simulates pool on your computer with full 3-D environment and perfect sound. It features easy and addictive game play, supports 3-Ball, 8-Ball, 9-Ball, 15-Ball, Straight, Rotation, BlackJack and Bonus games. The balls roll just like real ones, and you can position your cue shot to hit at various places on the cue ball for different spins! 3D Live Pool has single and multi-player modes. You can play online or off.

Category: Sports games
Author: Etiumsoft
Filesize: 1536k
Download time: 56k: 4 minutes, Cable/DSL: Less than 1 minute
Get 3D Live Pool now:

Free trial!

Only $19.95!
If you like this game, you may also like other games in the Sports category!