AirXonix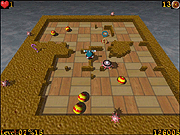 DESCRIPTION:

AirXonix is an ultra modern 3-dimensional remake of the famous Xonix game. In the older Xonix game you controlled a device, which moved over a field with several monster-balls wandering inside. The objective was to cut the balls away from as much spare field as possible. The rules of AirXonix are almost the same, except the device you control is flying in the air and everything is in full 3D! The stunning special effects are strengthened by 3D sound! New types of monsters and a slew of different bonuses all displayed in full 3D bring the old game to an entirely new level.

Category: Arcade games
Author: AxySoft
Filesize: 2,048k
Download time: 56k: 6 minutes, Cable/DSL: Less than 1 minute
Get AirXonix now:

Free trial!

Only $14!
If you like this game, you may also like other games in the Arcade category!