Solitaire City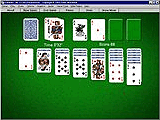 DESCRIPTION:

Tired of playing the same old solitaire games and feeling empty and unrewarded when you win? Then try Solitaire City and play your favourite solitaire games against the clock. The faster you play, the higher your score as wacky sampled sound effects energize you, adding to the franctic fun. Upload your high scores to the web and compete with other Solitaire City players around the world. It's very addictive!

Get Solitaire City now:

Free trial!

Only $19.95!
If you like this game, you may also like other games in the Card & Board category!