Pacmania 2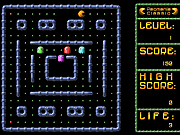 DESCRIPTION:

The coolest Pac-man remake since the original Pac-man of 1980, PacMania II features a 3D-environment, stylish graphics and sound effects. The Classical mode is at your service if you?re longing for some old-style gaming. The Advanced Mode is for people, wanting an adventure and a special CarMania mode is for people with a passion for cars. You can select your game theme and character at the beginning of the game. The episodes will offer you a great variety of levels, graphics and bonuses.

Get Pacmania II now:

Free trial!

Only $14.95!
If you like this game, you may also like other games in the Arcade category!