Gold Sprinter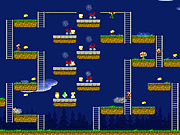 DESCRIPTION:

This game is a remake of the classical game LodeRunner. The core gameplay remains the same: Gold Sprinter runs around a level gathering gold and escaping cruel monsters. The notable features of this game are an elegantly rendered 3D worlds and characters; true color graphics and animation; joystick support and interactive environment. You have over 100 puzzle and arcade-style levels to go through, easy level pack are available especially for kids. You will also encounter dynamic particle system effects like smoke, dust etc. And funny sound effects and ambient music will keep you going.

Get Gold Sprinter now:

Free trial!

Only $19.95!
If you like this game, you may also like other games in the Sidescrolling category!