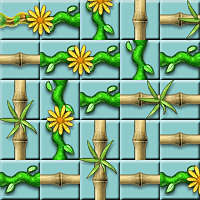 Magic Vines
By: Big Fish Games. Category: Puzzle. Played 6 times today, 348,713 times all-time.
Magic Vines: An addictive puzzle game that mixes Bejeweled with Pipedream to create a brand new instantly entertaining game! Rated 4.5 out of 5 with 333 ratings
Instructions: Use your mouse to match up sets of 3 of the same type of vine. Click to rotate the vine pieces. Clear all of the blue tiles to move to the next level!
Also! If you enjoy playing Magic Vines online, be sure to download the FREE trial version of the FULL game! Click here to download the game from Play.vg!
How to bookmark this game: Press Ctrl-D. Or try Command-D on Mac