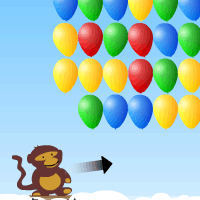 Bloons
By: Ninja Kiwi. Category: Other Fun Games. Played 3 times today, 42,855 times all-time.
Bloons: Monkey see. Monkey doo. Monkey break bloons! Rated 4.5 out of 5 with 22 ratings
Instructions: Use your mouse to aim your monkey's throwing arm. Hold down the left button to power up your throw and release when you're ready. Break as many balloons ("bloons"?) before you run out of darts. Look out for special balloons that explore or do other things.
How to bookmark this game: Press Ctrl-D. Or try Command-D on Mac