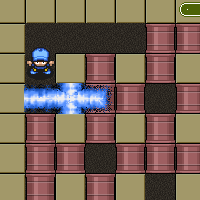 Playing with Fire 2
By: GamesMate.com. Category: Action: General. Played 7 times today, 9,995 times all-time.
Playing with Fire 2: A great Bomberman clone which you can play against CPU opponents Rated 3 out of 5 with 3 ratings
Instructions: Blow up your opponents! Just like Bomberman, move your character with the arrow keys and press the Spacebar to drop bombs. Try not to blow yourself up! Collect powerups to enhance your abilities, like more bombs, bigger explosions, and faster running.
How to bookmark this game: Press Ctrl-D. Or try Command-D on Mac