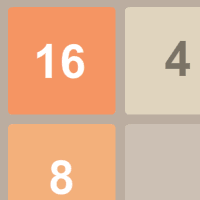 2048
By: Gabriele Cirulli. Category: Puzzle. Played 1 time today, 48,921 times all-time.
2048: The number-tile matching game based on "Threes" that took the web and mobile devices by storm Rated 4 out of 5 with 50 ratings
Instructions: Shift the numbered tiles using the arrow keys. When two of the same numbered tiles are shifted into each other, they will merge. Try to merge tiles to get to 2048; when all of the spaces on the board are filled, the game ends! So try to keep matching tiles to keep some spaces available.
How to bookmark this game: Press Ctrl-D. Or try Command-D on Mac