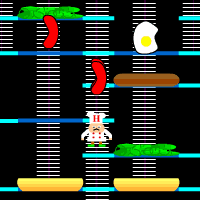 Burgertime
By: Robbs Games. Category: Action: General. Played 2 times today, 17,991 times all-time.
Burgertime: Burgertime is a classic and fun action arcade game where you're chased by hotdogs and an egg! Rated 4.5 out of 5 with 16 ratings
Instructions: Burger Time is an arcade classic action game where the goal is to clear all of the hamburgers off the playing field. Use the arrow keys to move around and avoid the hotdogs and the egg. Walk over the hamburger pieces to drop them down. Drop all of them off the screen to clear the board. You can crush the hotdog and egg with the hamburger pieces, or you can drop a hamburger piece while a hotdog or egg is walking on it.
How to bookmark this game: Press Ctrl-D. Or try Command-D on Mac