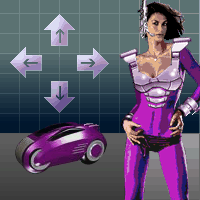 FL Tron
By: Dan Hsu. Category: Snake-style. Played 1 time today, 15,156 times all-time.
FL Tron: TRON and Snake-like, this classic Flash game has both one and two-player modes Rated 5 out of 5 with 6 ratings
Instructions: Use the arrow keys to move your Tron-like cycle (in practice, it's like a snake) to trap your opponent and stay alive. Avoid getting boxed in!
How to bookmark this game: Press Ctrl-D. Or try Command-D on Mac