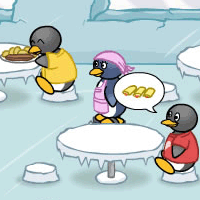 Penguin Diner
By: 2DPlay. Category: Action: General. Played 3 times today, 12,933 times all-time.
Penguin Diner: Modern classic penguin diner game where you serve food to penguin customers! Rated 4 out of 5 with 14 ratings
Instructions: Help the penguin waitress take care of her penguin customers in her penguin restaurant! Use your mouse to click on tables to seat customers, then click customers to take their orders. Once their food is ready click the food to bring it to their table. Then once they're paid, click the money to collect it. See detailed instructions within the game for more help.
How to bookmark this game: Press Ctrl-D. Or try Command-D on Mac