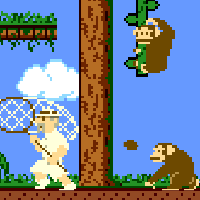 Super Monkey Poop Fight
By: Stephen Maddern. Category: Action: General. Played 1 time today, 18,224 times all-time.
Super Monkey Poop Fight: Monkey throw poop! Fling poo at your enemies in this fun Smash Brothers inspired retro game Rated 4 out of 5 with 11 ratings
Instructions: Attack your enemies the only way that monkeys know how: Throw poo! (Okay, they may have other methods of attack. But not in this game!) This Smash Brothers inspired game requires you to use your excrement to battle your monkey and human opponents. Use the arrow keys to move, press 'A' to fling poop, and 'S' to jump. Holding down 'A' allows you to run. Pick up bananas to keep your "ammo" meter filled.
How to bookmark this game: Press Ctrl-D. Or try Command-D on Mac