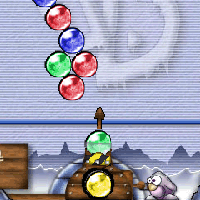 Frozen Bubble
By: Glen Sanson. Category: Puzzle. Played 1 time today, 491,447 times all-time.
Frozen Bubble: Just like Puzzle Bobble or Bust-a-Move! Shoot to match up the colored bubbles! Rated 4.5 out of 5 with 187 ratings
Instructions: Match 3 or more of the same color bubble to clear them from the playing field. Use the left and right arrow keys to aim your shot, then up (or shift) to fire. You can bounce your shots off the walls.
How to bookmark this game: Press Ctrl-D. Or try Command-D on Mac