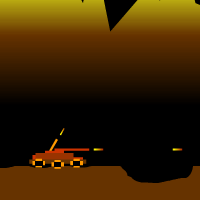 Moon Patrol
By: Anore Michelle. Category: Sidescrolling. Played 2 times today, 64,483 times all-time.
Moon Patrol: Similar to the Atari arcade classic Moon Patrol! Rated 4.5 out of 5 with 15 ratings
Instructions: Use the left and right keys to steer your moon vehicle. Press up to jump and spacebar to shoot. Jump over holes. Shoot rocks and spaceships, and avoid their bullets.
How to bookmark this game: Press Ctrl-D. Or try Command-D on Mac