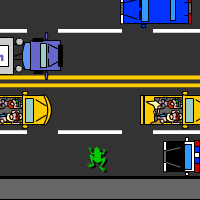 Frogger
By: 2DPlay. Category: Frogger-style. Played 1 time today, 673,188 times all-time.
Frogger: Dodge the cars to save your frog! Rated 4 out of 5 with 74 ratings
Instructions: Try to get your frog to the spaces at the top of the screen. Use the arrow keys to move your frog. Watch out for the cars and other obstacles on the way! Fill up all four spaces to advance to the next level.
How to bookmark this game: Press Ctrl-D. Or try Command-D on Mac