Pharaohs Curse Gold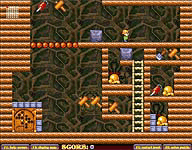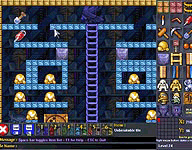 DESCRIPTION:

Pharaohs' Curse Gold is a platform game mixed with cool puzzles, in fact, the main focus is on the puzzle elements. In this game you can use drills, hammers, picks and shovels to break the tiles that guard the gold. When you collect all the gold in a level, the exit door unlocks. Pharaohs' Curse Gold has 70 levels plus a level editor. It also features colorful, cheerful graphics and ancient Egyptian style music.

Category: Puzzle games
Author: AncientSoft
Filesize: 1,303k
Download time: 56k: 3 minutes, Cable/DSL: Less than 1 minute
Get Pharaohs Curse Gold now:

Free trial!

Only $19.95!
If you like this game, you may also like other games in the Puzzle category!