Pharaohs Treasure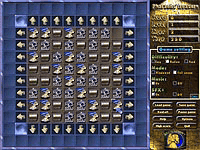 DESCRIPTION:

Pharaohs' Treasure is a fast and addictive puzzle game. You have to line up ancient Egyptian treasure pieces of the same type into rows or columns to remove them from the grid and get more pieces appear. Power ups fall down randomly while you are playing which adds more fun and excitement to the gameplay. Keep on your toes because you're being timed!

Category: Puzzle games
Author: AncientSoft
Filesize: 1,912k
Download time: 56k: 5 minutes, Cable/DSL: Less than 1 minute
Get Pharaohs Treasure now:

Free trial!

Only $19.99!
If you like this game, you may also like other games in the Puzzle category!