Arcade Lines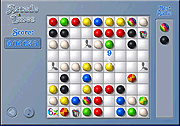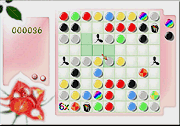 DESCRIPTION:

Arcade Lines is played on a board that fills with multi-colored pieces as the game progresses. You have a very simple objective: Stop the board from filling up by forming rows of 5 or more pieces of the same color. The rows will disappear, leaving more space for new pieces. Build more lines in consecutive moves to get the combo bonus for a higher score. With every turn you may move only one piece, and only if there is a clear path to its destination. As space becomes scarce there are less useful moves to choose from, so the game gets gradually harder.

Category: Puzzle games
Author: Lobstersoft
Filesize: 2,967k
Download time: 56k: 9 minutes, Cable/DSL: Less than 1 minute
Get Arcade Lines now:

Free trial!

Only $14.95!
If you like this game, you may also like other games in the Puzzle category!