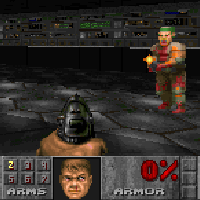 DOOM
By: mike. Category: Shooting: Other. Played 72 times today, 324,756 times all-time.
DOOM: DOOM the 3D shooting classic, originally by id Software is now a free Flash web game! Rated 4.5 out of 5 with 490 ratings
Instructions: Play DOOM in Flash, originally by id Software, just like you used to on your old PC! The 3D-shooting classic is now on the web! Click once on the Flash application, then use the keyboard to start the game. Use the arrow keys to move around, press Ctrl to shoot, and press Spacebar to open doors or press switches.
How to bookmark this game: Press Ctrl-D. Or try Command-D on Mac