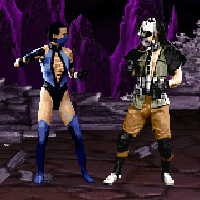 Mortal Kombat Karnage
By: Anonymous. Category: Action: General. Played 5 times today, 33,731 times all-time.
Mortal Kombat Karnage: Play Mortal Kombat in your web browser! Rated 4 out of 5 with 68 ratings
Instructions: In this Mortal Kombat remake, you can play as some of the fighters from the classic series. Choose "Single Player" since apparently none of the other options were completed. Use the arrow keys to control your character. Press A to punch, S to block, and D to kick. For special moves for each character, see online guides.
How to bookmark this game: Press Ctrl-D. Or try Command-D on Mac