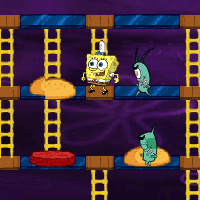 SpongeBob Squarepants Party Panic
By: Nickelodeon. Category: Action: General. Played 1 time today, 17,191 times all-time.
SpongeBob Squarepants Party Panic: SpongeBob Squarepants battles Plankton for Krabby Patties in this Burgertime inspired action game Rated 4 out of 5 with 17 ratings
Instructions: SpongeBob must save the burgers! Err, Krabby Patties! The game plays much the same as the arcade classic Burgertime. Use the arrow keys to move SpongeBob around and avoid the Planktons. Walk over the burger pieces to drop them down. Drop all of them off the screen to clear the board. You can crush the Planktons with the burger pieces, or you can drop a piece while a Plankton is walking on it.
How to bookmark this game: Press Ctrl-D. Or try Command-D on Mac