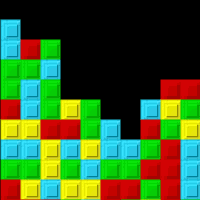 Crash Down
By: 2DPlay. Category: Tetris-style. Played 6 times today, 582,677 times all-time.
Crash Down: Just like the classic 'Collapse' game! Remove same colored blocks! Rated 4.5 out of 5 with 215 ratings
Instructions: Use your mouse to click groups of three or more of the same color block to remove them from the playing field. Keep clearing blocks to prevent the pile from reaching the top of the screen.
How to bookmark this game: Press Ctrl-D. Or try Command-D on Mac