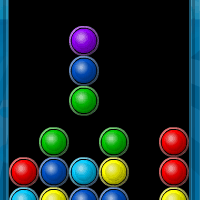 Columns
By: Doof. Category: Tetris-style. Played 72 times today, 93,419 times all-time.
Columns: Just like the Sega classic game Columns, play this Tetris-inspired puzzle game! Rated 4 out of 5 with 25 ratings
Instructions: Match three or more of the same color to clear them from the playing field. Use the arrow keys to move the three-stacked columns left and right. Press up to rotate the colors, and press down to drop the shapes more quickly. Try to prevent the screen from filling up to the top!
How to bookmark this game: Press Ctrl-D. Or try Command-D on Mac