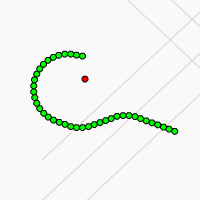 Radial Snake
By: Yuliy Schwartzburg. Category: Snake-style. Played 11 times today, 164,286 times all-time.
Radial Snake: This "radial" (360 degrees) version adds a new twist to the classic Nibbles game! Rated 4 out of 5 with 24 ratings
Instructions: Hold the left or right arrow keys to turn your snake left and right. Keep collecting dots to lengthen your tail.
How to bookmark this game: Press Ctrl-D. Or try Command-D on Mac