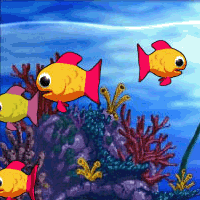 Insaniquarium
By: PopCap Games. Category: Other Fun Games. Played 12 times today, 260,928 times all-time.
Insaniquarium: Insaniquarium is an addictive strategy/arcade game! Who knew owning a fish tank could be this exciting and addicting? Rated 4 out of 5 with 98 ratings
Instructions: After choosing your three free "helpers" (you'll have to experiment to find out what they do!) drop food to feed your fish by clicking on the tank. Keep feeding them every so often or they will die. Collect money tokens that they drop (food costs money!).

Watch out for aliens, zap them with your mouse. (Some later aliens must be defeated in other ways!) Buy new items by clicking at the top of the screen. After buying three pieces of the egg shell the level ends and you get a new pet added to the tank!
How to bookmark this game: Press Ctrl-D. Or try Command-D on Mac