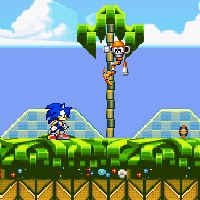 Sonic the Hedgehog
By: menace.ch. Category: Sidescrolling. Played 5 times today, 2,469,260 times all-time.
Sonic the Hedgehog: Sega's most well known character and mascot, now fully playable on the web in Sonic the Hedgehog! Rated 4.5 out of 5 with 407 ratings
Instructions: Get Sonic to the end of the level while avoiding or bouncing on the enemies. Collect rings to keep alive and for bonus points. Use the left and right arrow keys to move left and right. Press the Spacebar to jump. To spin-dash, press and hold the down arrow key, then press the Spacebar, then release the down arrow key.
How to bookmark this game: Press Ctrl-D. Or try Command-D on Mac