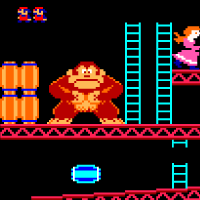 Donkey Kong
By: Anonymous. Category: Sidescrolling. Played 31 times today, 983,702 times all-time.
Donkey Kong: Mario's first adventure: Save Pauline from Donkey Kong! Rated 4 out of 5 with 553 ratings
Instructions: Use the left and right arrow keys to move Mario, and press the Spacebar to jump. Leap over or avoid the barrels. Climb to the top of the scaffolding to save your girlfriend Pauline from Donkey Kong!
How to bookmark this game: Press Ctrl-D. Or try Command-D on Mac