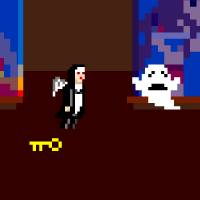 MCR Sweet Revenge
By: My Chemical Romance. Category: Action: General. Played 13 times today, 256,412 times all-time.
MCR Sweet Revenge: Sweet retro-NES style graphics are featured in this simple but enjoyable fast-paced action game! Rated 4.5 out of 5 with 291 ratings
Instructions: Collect the keys and avoid the ghosts. Use the arrow keys to move (fly) around the screen. Once you've collected all they keys, fly off the right side of the screen to finish the level. Watch for additional instructions within the game.
How to bookmark this game: Press Ctrl-D. Or try Command-D on Mac