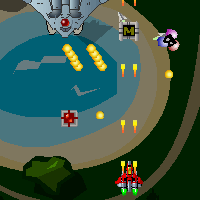 RaidenX
By: GoOgley. Category: Shooting: Space. Played 2 times today, 252,043 times all-time.
RaidenX: Tribute to the awesome Raiden shoot-em-up games! Great gameplay, graphics and sound! Rated 5 out of 5 with 18 ratings
Instructions: Move your ship using the arrow keys. Press Z to fire, and X to drop bombs. Collect powerups to build your weapons (Red=Normal, Blue=Lazer, Purple=Homing Lazer) and missiles (M=Normal, H=Homing).
How to bookmark this game: Press Ctrl-D. Or try Command-D on Mac