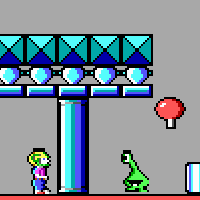 Commander Keen
By: Glen Rhodes. Category: Sidescrolling. Played 4 times today, 1,229,163 times all-time.
Commander Keen: One of the most well known and classic DOS games lives on! Play Commander Keen in Flash today! Rated 4.5 out of 5 with 749 ratings
Instructions: Find your way to the exit of each level by jumping, shooting and finding various keycards and other items. Use the arrow keys to move left and right. Jump by pressing the up arrow key. Shoot (after picking up ammo in the form of red guns) by pressing the down arrow key. After finding the pogo stick, press Shift to toggle it on/off.
How to bookmark this game: Press Ctrl-D. Or try Command-D on Mac