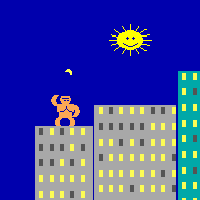 Gorillas QBasic in Flash
By: Anonymous. Category: Other Fun Games. Played 2 times today, 92,703 times all-time.
Gorillas QBasic in Flash: Play the classic QBasic Gorillas game in Flash in your browser! Rated 4.5 out of 5 with 125 ratings
Instructions: The classic QBasic DOS game has been expertly recreated in Flash! Perhaps the best gorilla throwing bananas game ever made ... this is a two player competitive game. The goal is to throw exploding bananas at your opponent (the other player) to kill them. Enter the angle and velocity of your throw, and hope you hit them! TIP: THE RED ARROW AT THE BOTTOM INDICATES THE DIRECTION OF THE WIND! So make sure to adjust your angle and velocity accordingly!
How to bookmark this game: Press Ctrl-D. Or try Command-D on Mac