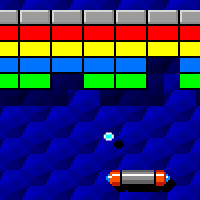 Arkanoid MX
By: syndicatesdomain. Category: Breakout-style. Played 5 times today, 95,098 times all-time.
Arkanoid MX: A great remake of the classic Arkanoid ball and paddle game in the tradition of the Breakout arcade classic. Rated 4.5 out of 5 with 119 ratings
Instructions: Use the arrow keys to move your paddle left and right. Prevent the ball from falling past you and off the bottom of the screen. Collect powerups and use Spacebar to use them. Break all the bricks to proceed to the next stage!
How to bookmark this game: Press Ctrl-D. Or try Command-D on Mac