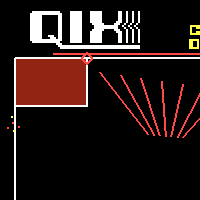 QIX
By: Taito. Category: Action: General. Played 1 time today, 9,113 times all-time.
QIX: The classic QIX arcade game remade for modern web browsers! Rated 3 out of 5 with 6 ratings
Instructions: Click the game and press Spacebar to begin. Draw over the screen to claim at least 75% of the screen. Hold down the 'Z' key to begin drawing and move with the arrow keys. Hold down 'X" instead to draw slower and gain 2x points.
How to bookmark this game: Press Ctrl-D. Or try Command-D on Mac