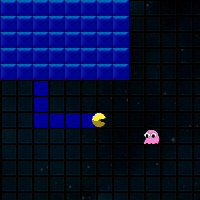 Pac-Xon
By: Anonymous. Category: Pac-Man-style. Played 24 times today, 72,239 times all-time.
Pac-Xon: Pac-Xon combines the great games Pac-Man and Xonix together! Rated 3.5 out of 5 with 46 ratings
Instructions: Use the arrow keys to move Pac-Xon (PacXon, PacMan, Pac-Man, whatever) around the grid. Draw lines to close off portions of the playing field. Avoid the ghosts; don't let them touch Pac-Xon OR the lines you draw, otherwise you'll die. You need to close off at least 80% of the board to progress to the next stage.
How to bookmark this game: Press Ctrl-D. Or try Command-D on Mac