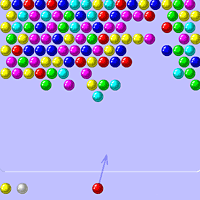 Bubble Shooter
By: Absolutist. Category: Puzzle. Played 16 times today, 53,261 times all-time.
Bubble Shooter: Similar to Bust-A-Move or Puzzle Bobble, try to shoot colored bubbles, make matches, and clear them from the board Rated 3.5 out of 5 with 30 ratings
Instructions: Use your mouse to aim and shoot the colored bubbles. Match three or more of the same color to clear them from the board. Once in awhile more colored bubbles will be added.
How to bookmark this game: Press Ctrl-D. Or try Command-D on Mac