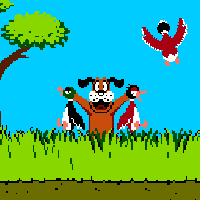 Duck Hunt Reloaded
By: Framecoders Co. Category: Shooting: Other. Played 3 times today, 35,135 times all-time.
Duck Hunt Reloaded: The Nintendo classic Duck Hunt game updated for the web! Shoot the ducks ... AND the dog! Rated 4 out of 5 with 13 ratings
Instructions: Use your mouse to shoot the ducks! You can also shoot other things (the well-known duck on the bike, the dog, etc) WARNING: This game contains blood and violence.
How to bookmark this game: Press Ctrl-D. Or try Command-D on Mac