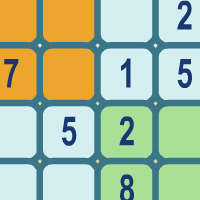 Sudoku
By: ZEN1TH. Category: Board Games. Played 1 time today, 7,380 times all-time.
Sudoku: Play Sudoku in your browser, unlimited games of the Japanese classic game are possible! Rated 3 out of 5 with 1 rating
Instructions: The popular Japanese game Sudoku is easy to play but difficult to master. The objective is to fill a 9x9 grid with numbers so that each column, row, and each of the nine 3x3 sub-grids that compose the board contains all of the digits from 1 to 9. So each row, column, and each of the nine boxes must contain nine unique numbers. See in-game for more instructions! You can also play the Soku variant of Sudoku.
How to bookmark this game: Press Ctrl-D. Or try Command-D on Mac