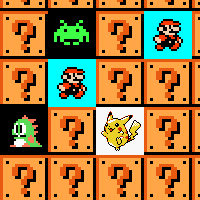 Video Game Concentration
By: Brian Gosselin. Category: Other Fun Games. Played 25 times today, 107,765 times all-time.
Video Game Concentration: Match each pair of tiles, using classic video game characters, in this new concentration tile-matching game! Rated 3.5 out of 5 with 95 ratings
Instructions: This new version of the popular concentration game uses popular retrogaming video game characters as the tiles! Uncover the entire game board by successfully matching the image pairs. Click the "Start game!" button (below the game board) to begin.
How to bookmark this game: Press Ctrl-D. Or try Command-D on Mac