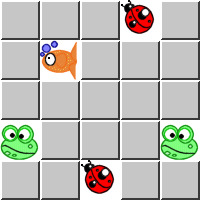 Concentration
By: Brian Gosselin. Category: Other Fun Games. Played 34 times today, 995,819 times all-time.
Concentration: Match up pairs to uncover the entire game board! Rated 4.5 out of 5 with 3572 ratings
Instructions: Uncover the entire game board by successfully matching the image pairs. Click the "Start game!" button (below the game board) to begin.
How to bookmark this game: Press Ctrl-D. Or try Command-D on Mac