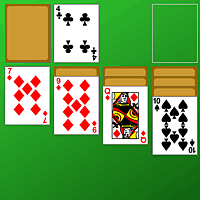 Solitaire
By: Idiots Delight. Category: Board Games. Played 8 times today, 69,107 times all-time.
Solitaire: Just like the Windows solitaire card game! Rated 4.5 out of 5 with 5 ratings
Instructions: This solitaire game plays pretty much the same as the solitaire version that is traditionally included with Windows. Please see detailed instructions within the game.
How to bookmark this game: Press Ctrl-D. Or try Command-D on Mac