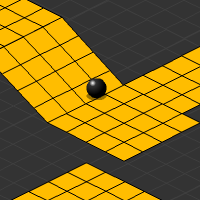 Gyroball
By: Whyman. Category: Action: General. Played 2 times today, 120,504 times all-time.
Gyroball: Remember Marble Madness? This game borrows heavily from that classic arcade game. It takes steady nerves to win! Rated 4 out of 5 with 37 ratings
Instructions: Use the arrow keys to guide your ball through the levels and into the hole at the end. Be careful about your speed! Your ball acts realistically and will pick up momentum.
How to bookmark this game: Press Ctrl-D. Or try Command-D on Mac