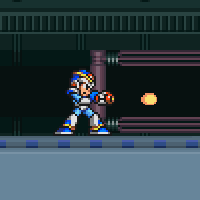 Mega Man
By: Asylum Avatars. Category: Sidescrolling. Played 1 time today, 42,576 times all-time.
Mega Man: Mega Man Project X remakes the Mega Man X games with style! Rated 4 out of 5 with 39 ratings
Instructions: Run, jump, and dash your way through the levels playing as the epic video game character Mega Man! You should change the controls to suit your preferences by clicking Options on the menu, then clicking the Reconfigure button at the bottom. By default, the arrow keys move and jump, spacebar shoots (hold down the key for a few seconds for a charged shot), and pressing the End key dashes.
How to bookmark this game: Press Ctrl-D. Or try Command-D on Mac