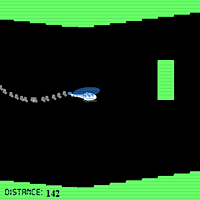 Helicopter
By: seethru.co.uk. Category: Action: General. Played 15 times today, 319,665 times all-time.
Helicopter: Avoid obstacles in this helicopter one-button game! Rated 4.5 out of 5 with 145 ratings
Instructions: Click and hold the left mouse button to make your helicopter go up, release to make it go down. Avoid the green obstacles. Your score continually goes up until the game ends (when you crash into something). Try to get over 1000!
How to bookmark this game: Press Ctrl-D. Or try Command-D on Mac